Personal Loans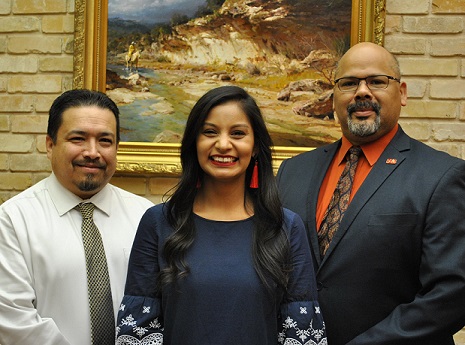 Pictured from Left to Right: Frank Aguilar, Ashley Salinas,
Ramon Castro
We want you to have the best!
Every now and then, we all need a little help to purchase those items which are more expensive than we wish. First State Bank of Uvalde is here to offer personal loans designed to fit your needs.
Come talk with us about how we can help you achieve your lifelong dreams or buy the expensive necessities of life.
New to FSB? Click the link below to print off a New Customer Loan document, fill it out and bring it to one of our Lending Officers!
Personal Loan Officers:
Main Bank (200 E. Nopal, Uvalde, TX 78801) (830) 278-6231
Ramon Castro - rcastro@fsbuvalde.com Ext. 1253
Frank Aguilar - faguilar@fsbuvalde.com Ext. 1258
Camp Wood Branch
Debra Hicks - dhicks@fsbuvalde.com Ext. 1213
Carrizo Springs Branch (830) 278-6231
Laura Rogers - lrogers@fsbuvalde.com Ext. 1328
Yolanda Jaime - yjaime@fsbuvalde.com Ext. 1334
Concan Branch (830) 232-4490
Mary Rodriguez - mrodriguez1@fsbuvalde.com
East Main Branch (830) 278-6231
Ashley Salinas - asalinas@fsbuvalde.com Ext. 1230
Frio Canyon/Leakey Branch (830) 232-5224
Sandy Lynam - slynam@fsbuvalde.com Ext. 1327
Sabinal Branch (830) 988-2465
Sophie T. Campos - scampos@fsbuvalde.com
Utopia Branch (830) 966-3522
Tina Clark - tclark@fsbuvalde.com Ext. 1219