Card Services
Report a Lost or Stolen Card & After Hours Card Support
If you need to file a dispute after hours please call our Main line (830) 278-6231 and follow the voice response options.
To report a lost or stolen debit card or for card support after hours please call
(844) 202-5070 and follow the voice response options.
Debit Card Transaction Dispute
To file a dispute on any ATM or Check Card purchase, please call Account Services at (830) 278-6231. A customer service representative will connect you with our Cardholder Services Department. If you need to file a dispute after hours please call
(844) 202-5070 and follow the voice response options. Once you are connected to our Cardholder Services Department you will give a description of the transaction(s) and the reason for the dispute. A specialist will gather this information and input it into a card holder statement. This statement and instructions will be sent to you in the mail. Follow the instructions and return the statement to Cardholder Services. Provisional Credit will be issued to your account during the time period of investigation. Determining the results of investigation will determine whether the provisional credit will be determined as final credit or revoked. You will receive a letter notifying you of the results of the investigated dispute.
To expedite the dispute process you can voluntarily complete the Card Holder Statement Form located on our website and submit it to Cardholder Services rather than wait for one to be mailed to you. If you choose this method, be sure to obtain the case number from the Cardholder Service representative that is taking your request over the phone.
Notes:
• Disputes can be reported for transactions that are no older than 60 days from the most recent account statement.
• It may take up to 10 days for provisional credit to be posted to your account.
• Disputes may take up to 90 days to investigate.
• Provide a thorough description of the reason for the dispute and any other documentation you may have to help the Cardholder Services department investigate your dispute.
• Return all documentation as quickly as possible or provisional credit could be removed.
• If you have any problems filing a dispute, please contact your local Customer Service Manager for assistance.
At this time, please make sure and open this page in Internet Explorer and click HERE to download and complete the form.
Once completed, there are three ways to submit the form:
By Mail
Cardholder may mail documentation to the following address
Cardholder Services Disputes
P.O. Box 183259
Columbus, OH 43218-3259

By Email:
Cardholder can email the documentation to the following email address Card.Services@Fiserv.com

By Fax:
(614) 564-4588


Card Valet

Fraud Protection
•Real-time alerts keep you informed when your cards are used
•Transaction controls allow your cards to work only in specific locations or geographic areas
•When your cards are "off," no withdrawals or purchases will be approved
Control Spending
•Set spending limits for general use or specify thresholds by merchant types, such as gas, groceries or retail stores
•Establish controls by location and change parameters via your mobile device
Business Use
•Use transaction controls for merchant codes, locations, transaction types and thresholds to ensure employee spending adheres to company policies
Review Balances and Transactions
•Monitor your finances anytime, anywhere by using the CardValet app to check your account balances or review recent card transactions
To Download Card Valet on your mobile device click the buttons below:
Premium Text Fraud Notification

HOW IT WORKS
With text fraud alerts, if our system detects suspicious activity on your card, you'll receive a text message with details about the suspected transaction. All you have to do is respond to the text to confirm the transaction.
If you indicate the transaction is fraud, you'll receive another message with a number to call for follow-up. If not, you're all set. The system will mark the transaction as legitimate and you can get on with your day – simple as that.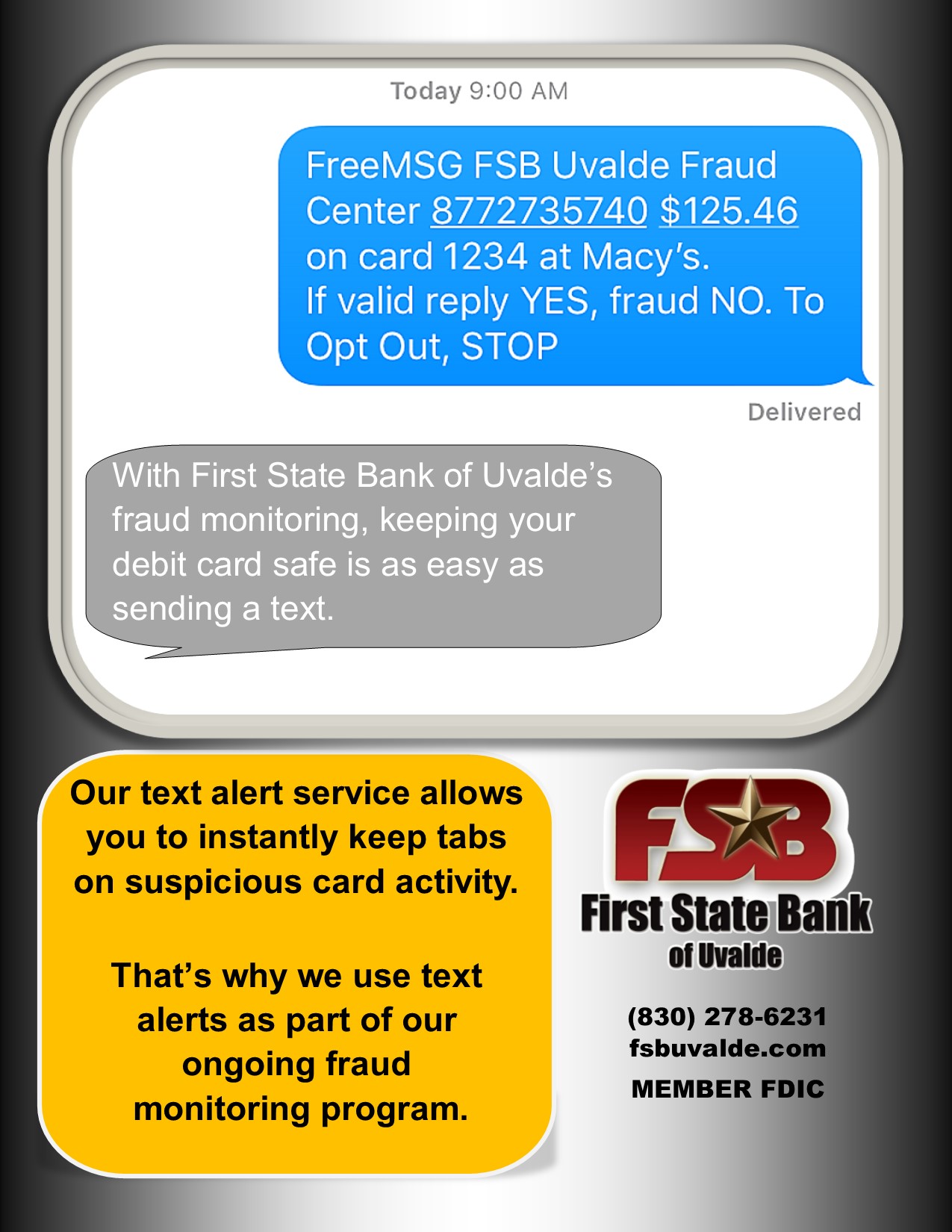 GETTING STARTED
If we have your cell phone number on file and there is suspicious activity on account you will receive a text alert right away.
If you need to verify or update your mobile phone number or for more information call Account Services at (830) 278-6231.